SEO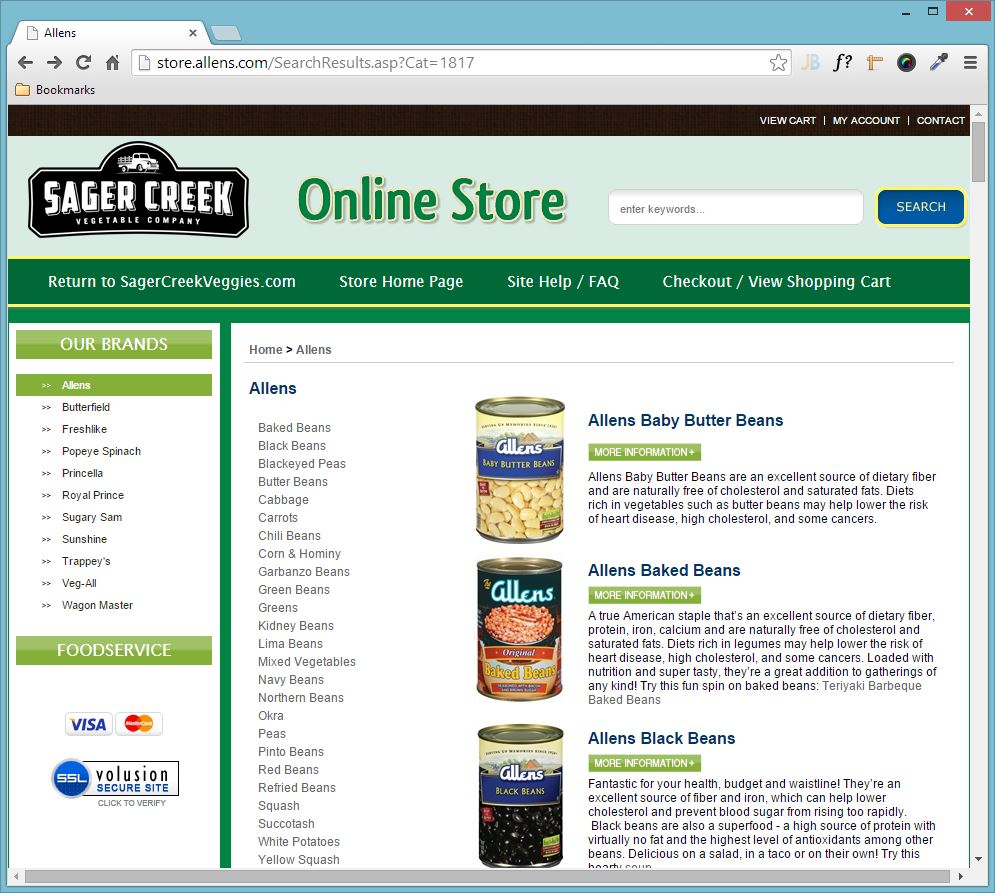 / Overview
Sager Creek Vegetable Company, formerly Allen Canning Company, carries a long history, thus brand recognition for the consumer in the retail store experience. It is a leading "southern style food" brand in the southeast. Allens, an iconic name in Arkansas' business history, changed its name in July 2014 to Sager Creek Vegetable Company as part of new ownership and management changes.
Sager Creek Vegetable Company currently sells through retail stores. At the time of this review, the site was, in essence, an eCommerce function even though there is additional information to involve the public like recipes. The current website under the Sager Creek Vegetable Company is a huge improvement over the site under the Allens Canning Company name. It is unknown whether online sales through an ecommerce function will return to Sager Creek's business model.
The main target for its online sales is the Southeastern US, which includes: West Virginia; Virginia; North Carolina; South Carolina; Georgia; Florida; Alabama; Tennessee; Kentucky; Mississippi; Louisiana; and Arkansas. Individuals living in the West spent the least on canned vegetables, while individuals in the South spent the most in both 2004 and 2008.
The target online shopper leads a busy life and expects a quick purchase experience. For the product line, small to large families are especially targeted for cost per unit and convenience of use. This benefits the food preparer who may hold more than one part-time job or who has returned to school. With the increase in business-to-consumer e-commerce revenue topping nearly $200 billion in the United States in 2012 and anticipated growth, Sager Creek Vegetable Company is in a position to capture sales in the 20-40 year old shopper, particularly in the Southeastern United States.
/ Process
In order to generate possible keywords, various words directly pertaining to Sager Creek Vegetable Company's products were tested using online keyword suggesting tools. The goal was to broaden ideas and also look for patterns where long-tail keywords could be generated. The goal was to find long-tail keywords that were not too specific; yet, would be specific to the business with lower search volumes and competition. These search phrases were then researched in Google AdWords to determine monthly queries and suggested bids for a CPC, or cost per click, campaign.
From the numerous tests, a list of ten top keyword phrases emerged. These were distributed among competitive ad placement ranking from low to medium to high. As expected, generic terms like canned beans and canned vegetables fall in a medium competition range. The brand Del Monte already maintains a large market share and this is prevalent in the current ads for these terms. The popularity of canned green beans in the American diet and, in particular, during the holiday season make this search word of no value to Sager Creek Vegetable Company. The same holds true for canned corn. In an interesting direction, searching for survival foods returns a high competitive ranking; yet, no current ads were returned. This opens a unique direction that would need to be delicately developed on the Sager Creek Vegetable Company home page in order to pursue this for keyword optimization.
/ Recommendations
Sager Creek Vegetable Company provides the consumer with a brand choice for canned vegetables in a market that is saturated by Del Monte, Green Giant and Libby's. The strength of Sager Creek Vegetable Company is its niche offering of regional favorites such as field peas, okra and turnip greens. Only Glory Foods enters that market, but is seen more of a soul food brand due to the way they have capitalized on the company's African American ownership. Their foods also tend to be seasoned and sold as replacements for in-home preparation. Basing keyword choices for a Pay-Per-Click campaign on this, it is highly suggested the phrases "field peas," "southern recipes," "black eyed pea," and "hoppin john" be used. Caution must be given to "black eye pea" where making the word "pea" plural creates hits for the popular music group.
The suggested phrases are long-tail to provide a specific and measurable search while also not too specific like, "deep south field peas with snaps," that Google AdWords does not have enough data to measure. These suggested phrases should be used for a PPC text campaign as sponsored ads in search engine query results. Cans of the pertaining product should be shown with a call to action and link to the store's web page. While the individual vegetable will have direct conversions, a phrase like "southern recipes" gives the consumer a resource for ingredients commonly used in the recipe. Cross marketing with social media like Facebook and Twitter should be incorporated to coincide with the use of these links on the company landing page and throughout the site.